IS THE NEW HIGHPERFORMANCE COMPACT TECNOPOL SPRAYING EQUIPMENT THAT ALLOWS THE APPLICATION OF BOTH POLYUREA MEMBRANES AND POLYURETHANE FOAMS.
The TC1049 hydraulic metering unit has been designed and built as a multipurpose solution to meet all needs in industrial applications, both for polyurea membranes and polyurethane foams.
Its main advantages are:
Automatic and constant temperature control.
Maintains stable pressures.
Less maintenance than similar electrical equipment.
It allows for uninterrupted working days.
Easily expandable with available kits
INSTALLATION:
The simplicity and features of the equipment facilitate installation and commissioning. In addition, TECNOPOL provides a set of tools and accessories together with the equipment to make assembly easier and more comfortable. As for the hoses, they are vacuum-dried to ensure that the strictest sealing requirements are met at the time of installation.
PRECISE DOSAGES:
The assembly is equipped with two positive displacement piston pumps driven by a double-rod hydraulic cylinder. This parallel piston pump system provides a constant volume and guarantees uniform pressures in both directions of pump travel, thus ensuring the total uniformity of the application.
HOSE HEATING SYSTEM:
The machine has an integrated heating system with suffi cient power for the most common hose confi gurations:
Recirculation hoses with a maximum length of 11 metres
20-metre hoses heated with 230 V wire and fi tted with a temperature sensor.
As an additional option for more demanding jobs, an external transformer is available as an accessory that allows the heated hose length to be extended up to 48 metres, making the TC-1049 compact unit one of the most versatile on the market.
TECHNICAL SPECIFICATIONS
Machine consumption:
12 A + 16 A – 2 plugs (Recirculation Hoses)
16 A + 16 A – 2 plugs (230 V Heated Hoses))
16 A + 16 A + 9 A – 3 plugs (LV Heated Hoses)
Maximum operating pressure: 175 bar
Maximum output ratio 1:1: 4 kg/min
Maximum capacity of Tanks: 30 l + 30 l
Recirculation hose length: 11 m
Maximum hose length with 230 V heating: 20 m
Maximum hose length with transformer (optional): 48 m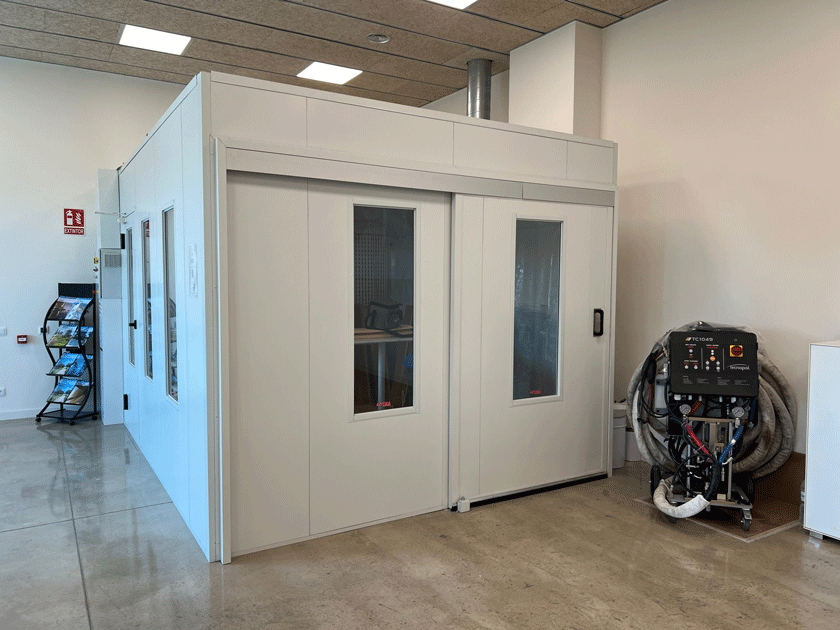 AVAILABLE KITS:
STANDARD KIT
The standard kit consists of the TC-1049 device, an 11-metre unheated recirculation hose and a PROMIX I gun.
Suitable for most applications in temperate climates.
HEATED KIT
This kit consists of the TC-1049 device, a 20-metre heated hose and a PROMIX I gun. Suitable for applications in
cold environments or where a longer hose is required.
EXTENDED HEATING KIT
Este kit se compone de equipo TC-1049, maguera calefactada de 18 metros (ampliable hasta 48m) y pistola PROMIX I. Adecuado para todo tipo de aplicación.