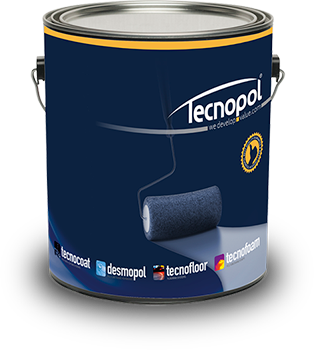 PIGMENTS PU
Special ink for TECNOTOP range of aliphatic resins(neutral version)
PIGMENTS PU is a mastic pigment designed for pigmentation-coloration of the aliphatic resins TECNOTOP 2C, TECNOTOP 2CP and TECNOTOP S-3000.(on neutral version)

TDS. Technical Data sheet

Downloads
Uses
Pigment dispersion for coloration of our polyurethane aliphatic resins TECNOTOP 2C and TECNOTOP 2CP and TECNOTOP S-3000, polyaspartic resin, all of them on neutral version.
NOTE: call our technical department about the application to other supports or situations
| | |
| --- | --- |
| cleaning | DESMOSOLVENT |
| mix ratio | 20% |
GENERAL FEATURES
Add PIGMENTS PU to the container of component A of TECNOTOP
Mixing (with a low-speed device), for the time necessary to obtain a colored mixture homogeneously.
Cleaning materials are made with our solvent DESMOSOLVENT.
It comes in approximate coloration of RAL chart.
---
PACKAGING
Metal tins of 1 kg.
SHELF LIFE
12 months for each product at temperatures between 5° C and 35° C, provided it is stored in a dry place. Once the tin has been opened, the product must be used immediately.
HANDLING
Consult material and safety data sheet (MSDS), or contact our technical department.
| | |
| --- | --- |
| PROPERTIES | VALUES |
| Density at 23ºC ISO 1675 | white:±1,5~2 g/cm³ |
| Density at 23ºC ISO 1675 | red tile 8004: ±1,1~1,2 g/cm³ |
| Density at 23ºC ISO 1675 | grey 7042: ±1,0 g/cm³ |
| Density at 23ºC ISO 1675 | blue 5012: ±1,0 g/cm³ ±0,1 |
| VOC(volatile organic compounds) | 280 g/l |
| Appearance | pasty |
| Viscosity at 23ºC ISO 2555 | < 5.000 cps |
| % pigment contents | white: 65% |
| % pigment contents | red tile 8004: 52% |
| % pigment contents | grey 7042: 50% |
| % pigment contents | blue 5012: 45% |
| Particle size | <20 µm |
Ces valeurs dans ce tableau sont approximatives et peuvent varier en fonction de la situation du transporteur ou de la méthodologie d'application employée (climatologie, climatologie, paramètres de support ...)